Nation 21 Cash Loans In Salem, VA 24153
Nation 21 Cash Loans have 12 stores throughout the US to make financial assistance accessible. We offer fast cash loans for emergencies and consider borrowers with any credit scores. Can't find your city on the list? You're welcome to apply online wherever you are!
WHERE TO FIND US
Borrowers who meet our simple requirements are welcome to apply online or visit our store and complete the application in person. We're always here to help!
We Are Local Business At Salem, VA 24153
Our Services
Loans we offer in Salem, VA 24153
Payday Loans
Cash Advance
Check Cashing
Installment Loans
When to Consider Fast Cash Advances from Nation 21 Cash Loans in Virginia?
Each of us knows better why he would need money. Thus, we set no limits on your loan purpose. Feel free to use your loan proceeds for any current needs.
Emergency Loan Requirements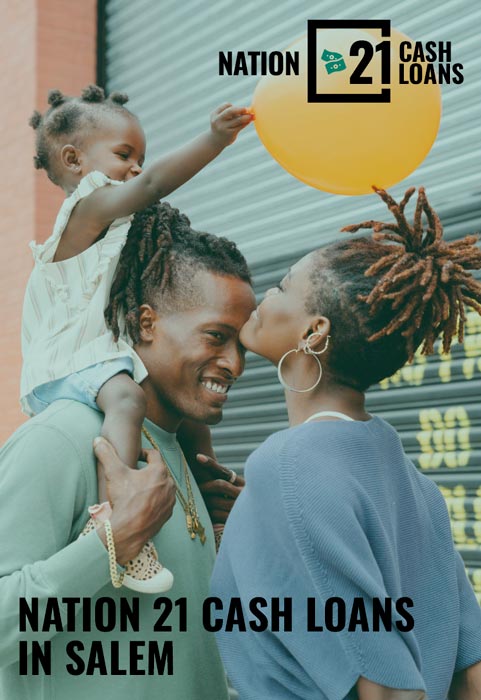 How to Apply for Quick Cash Loans With Nation 21 Cash Loans?
Step 1. Complete an application form
You can do it online or in the store. The whole process usually takes about 5 minutes.
Step 2. Get loan approval
We check your general credit background and send you a loan decision within an hour.
Step 3. Sign a loan agreement
Read it carefully and sign if the offered loan terms suit you.
Step 4. Get the money
Access the funds in your bank account as soon as the next business day.
Quick Cash Loans for Bad Credit in Salem, VA 24153 – Get It Today!
Your bad credit is not a barrier to getting a quick cash loan. We don't pay much attention to your past financial mistakes. If you have a steady monthly income that is enough to repay the loan on time, you can apply at any moment and get the assistance you need within a business day!
Nearby Locations
Nation 21 Cash Loans in Viginia beach
2354 Virginia Beach Blvd, Virginia Beach, VA 23454
Nation 21 Cash Loans in Norfolk
131 W 20th St, Norfolk, VA 23517
Nation 21 Cash Loans in Newport News
13264 Warwick Blvd, Newport News, VA 23602
Nation 21 Cash Loans in Henrico
1563 N Parham Rd, Henrico, VA 23229
Nation 21 Cash Loans in Petersburg
1995 S Crater Rd, Petersburg, VA 23805
Nation 21 Cash Loans in Madison Heights
121 Seminole Plaza, Madison Heights, VA 24572
Nation 21 Cash Loans in Martinsville
614 Commonwealth Blvd, Martinsville, VA 24112
Nation 21 Cash Loans in Franklin
1341 Armory Dr, Franklin, VA 23851
Nation 21 Cash Loans in Suffolk
130 W Washington St, Suffolk, VA 23434
Nation 21 Cash Loans in Danville
1060 Riverside Dr, Danville, VA 24540
Nation 21 Cash Loans in Farmville
1512 0 St, Farmville, VA 23901
Nation 21 Cash Loans in Salem
1479 US-11, Salem, VA 24153